Wend Images Gallery

Our industrial infrastructure - both old and new, can be compared to the bones of our enonomic body and civilization. From the most modern, high-tech, high rise, to the decaying shell of a ghostly, abandoned manufacturing plant - our culture, our progress, and our history as a society, is captured in the processes, devices, and edifaces of American industry.
Photo Projects
Light and Motion
History Made Life-Size
Archives / Stock Photography
Vintage Automotive
Mountains & Wilderness
Maritime
Rural America
Urban/Industrial
Dunes & Shorelines
Architectural Elements
Historical Images
Coulees
Natural Patterns
Landscapes
Canyons / Deserts
Foliage / Flowers
Odds & Ends

Photo Prints of this Image >
- Matted or Framed
Greeting Cards
- Greeting Card Sets
Contract Photo Projects
- Special Projects
Industrial Images See all images from this collection>>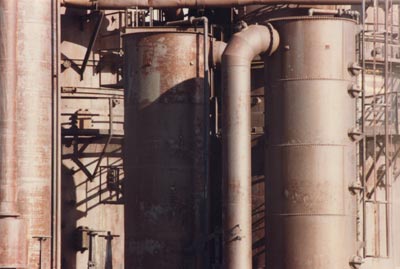 Gasworks Park Detail I - Seattle, Washington
Following a series of hazardous waste clean-ups, Seattle enjoys the relics of its historic coal-gassification plant on Lake Union as a popular urban park with stunning views of downtown.
Purchase Prints or Cards of this image
To inquire about contract photograpy, email: dan@wendimages.com.
©1987-2010 Daniel Wend / Wend Images. All material on this site is protected under United States and international copyright laws and is the sole property of Daniel Wend. All other uses are prohibited unless otherwise authorized. See Rights and Limitations