Wend Images Gallery

Ancient Lake Natural Area is just east of the Columbia River in eastern Washington state. It provides good evidence, with sagebrush and rattlesnakes, that the state's moniker of the "Evergreen State" does not apply to vast stretches of Washington. Ancient Lake is much more reminiscent of the old west than the soggy, Pacific Northwest that most people envision.
Archives / Stock Photography
Vintage Automotive
Mountains & Wilderness
Maritime
Rural America
Urban/Industrial
Dunes & Shorelines
Architectural Elements
Historical Images
Coulees
Natural Abstracts
Landscapes
Canyons / Deserts
Foliage / Flowers
Photo / Art
Photo Projects
Light and Motion
History Made Life-Size

Photo Prints of this Image >
- Matted or Framed
Greeting Cards
- Greeting Card Sets
Contract Photo Projects
- Special Projects
Ancient Lake See all images from this collection>>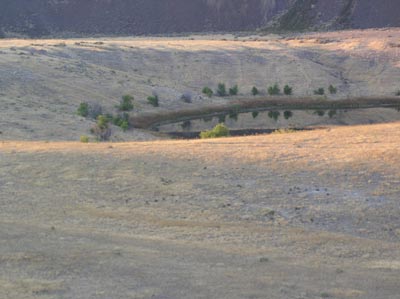 Trees Around Ancient Lake, Washington State
Ancient Lake is a pothole lake that was formed from the swirling waters and whirlpools of the great Lake Missoula Floods, over 10,000 years ago. Tremendous and violent whirlpools drilled holes in the bedrock which were left to become small lakelets that serve as habitat for numerous species of waterfowl and small mammals.
Purchase Prints or Cards of this image
To inquire about commissioning artwork, email: dan@wendimages.com.

| | | | |
| --- | --- | --- | --- |
| | | | |
| | | | |
| | | | |
| | | | |
| | | | |