Wend Images Gallery

These mountain images were taken over a series of years and a multitude of trips, hikes, climbs and backpack excursions throughout the west.
Archives / Stock Photography
Vintage Automotive
Mountains & Wilderness
Maritime
Rural America
Urban/Industrial
Dunes & Shorelines
Architectural Elements
Historical Images
Coulees
Natural Patterns
Landscapes
Canyons / Deserts
Foliage / Flowers
Photo / Art
Photo Projects
Light and Motion
History Made Life-Size
Photo Prints of this Image >
- Matted or Framed
Greeting Cards
- Greeting Card Sets
Contract Photo Projects
- Special Projects
Mountains and Forests See all images from this collection>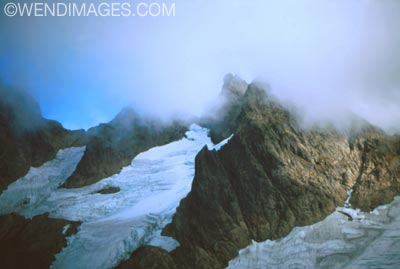 Three Fingers Mountain and Lookout Cabin Emerging from Clouds - Washington Cascades
The final approach to the Three Fingers summit and lookout cabin is made by climbing, white knuckled, up several heavy wooden ladders, bolted into the vertical rock face. Once climbers reach the top, they don't have much room to maneuver, as the peak drops off 2 thousand feet on one side, and around 4 thousand feet on the other. The cabin has been restored and contains many of the furnishings, tools and relics that fire lookouts depended upon when they stayed atop the mountain for weeks or months on end.
Purchase Prints or Cards of this image
To inquire about contract photo projects, email: dan@wendimages.com.
©1987-2010 Daniel Wend / Wend Images. All material on this site is protected under United States and international copyright laws and is the sole property of Daniel Wend. All other uses of these images are strictly prohibited unless otherwise authorized by Daniel Wend.